According to the National Weather Service in Phoenix, Phoenix set a new daily record on March 25 when temperatures reached 96 degrees, marking the season's first warm front. The weather service also reported that hot, dry, and windy conditions are prevalent during spring. Together, these conditions will likely prompt residents to turn on their air conditioners to cool their homes if they haven't already. 
However, if there are window leaks, the temperature in the Valley may not be the only thing rising. According to the Energy Star program, heating and cooling costs account for nearly half your energy bill, making it crucial to combat energy losses. A significant source of energy loss is air leaks around the building envelope, the windows included, as these provide conditioned air with an exit point.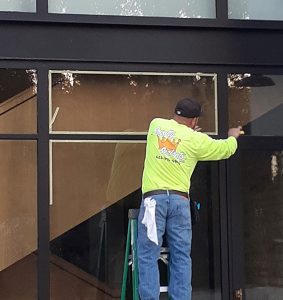 On warm spring days, window leaks let cool air out and hot air in, leading to increasingly expensive cooling costs. Unfortunately, they can also impact the quality of the air you're breathing in an environment the EPA says we spend about 90 percent of our time. Investing in local weatherization services can help you save ten percent or more on heating/cooling costs, promote good indoor air quality (IAQ), and enhance comfort.
Other Ways to Prep for the Heat
Replace the HVAC Filter
A new season calls for a new HVAC filter to help the system perform optimally, saving energy, thereby reducing cooling costs. Spring for a high-efficiency particulate air (HEPA) filter, which can also help keep pollen out of your indoor environment. They're designed to remove 99.97 percent of airborne particles measuring 0.3 microns. By reducing airborne allergens, like pollen, a clean HEPA filter may ultimately help you find some relief from the symptoms of springtime allergies.
Have Your Outside Areas Pressure Washed
Spring's longer days and temperate weather are ideal for hiking popular trails, reading on the deck, eating on the patio, and enjoying many other outdoor activities. Whether you own a business or home, make having professional pressure washing done part of your spring cleaning checklist, ensuring your outdoor areas are appealing. Pressure washing is an excellent option for cleaning various surfaces such as asphalt, concrete, and pavers and is an ideal way to prevent mold and mildew growth.
Consult a Pro about Addressing Window Leaks Today

With years of experience as a silicone sealant contractor, you can be assured that Royalty Sealants will select the highest quality, most durable products compatible with your commercial or industrial project requirements. In addition, we can also help Valley residents improve the energy efficiency of their homes by sealing window leaks through our local weatherization services. For more information about our services or to receive a free estimate, please get in touch with us today at (602) 915-5624.
Resources:
@NWSPhoenix. "Hot, dry, and windy conditions are very concerning for wildfires and fire behavior. Those conditions are also very common for Spring-Fall." Twitter, March 30, 2022.
@NWSPhoenix. "The high so far today at Sky Harbor is now up to 96 degrees…15 degrees above the normal for the date…and a new daily record." Twitter, March 25, 2022.
"Air Sealing Your Home." Energy Saver, Weatherization, U.S Department of Energy.
"Heat & Cool Efficiently." Energy Star, U.S. Department of Energy, United States Environmental Protection Agency (EPA).
"Seal and Insulate with Energy Star." Energy Star, U.S. Department of Energy, United States Environmental Protection Agency (EPA).
"What are the trends in indoor air quality and their effects on human health?" United States Environmental Protection Agency (EPA).
"What is a HEPA filter?" United States Environmental Protection Agency (EPA).