Arizona's monsoon season has arrived, and as usual, it continues through September. It is associated with extreme temperatures, high winds, blowing dust, and heavy rainfall. Flash flooding, humidity, and lightning are frequent. These storms often roll into the valley with little to no advance notice. The skies may be clear one minute and in the next, dark. The smell of dirt may linger in the air, as well, due to the regularity in which dust storms or "haboobs" sweep across many parts of the state.
Monsoon's Seasons Threats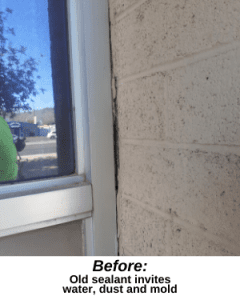 #1. Flooding
On average, Arizona sees a precipitation rate between 0.05- and 1.02-inches during monsoon season, according to the National Weather Service. 40 to 50 percent of the state's annual rainfall occurs during June, July, August, and September. In areas without proper drainage systems, flooding can quickly happen, potentially causing extensive water damage to structures. Royalty Sealants is a highly experienced caulking and waterproofing company who can make sure that your building is adequately protected this monsoon season. Contact us today at (623) 915-5624.
#2. Dust Storms
High winds can kick up soil, creating thick walls of dust that envelope areas. Also known as haboobs, depending on their severity, these dust storms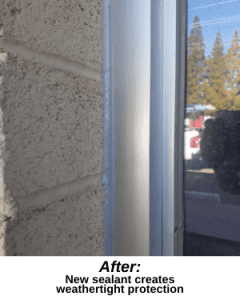 move swiftly and limit visibility. They can also cause a host of problems for companies, such as internet outages and if it enters the building, equipment failure. Caulking around windows and sealing any cracks can prevent dust and rain from damaging your facility or impacting your indoor air quality (IAQ).
#3. Extreme Temperatures
During the monsoon season, valley temperatures of 105°F and up are typical, placing a massive demand on air conditioning units and causing cooling costs to climb. One of the best methods for reducing high cooling costs is to hire a caulking and waterproofing company to weatherproof around windows and doors, as well as seal air leaks. Hiring Royalty Sealants to weatherproof your property helps keep conditioned air from escaping, thus helping improve thermal efficiency.
Arizona's Leading Caulking and Waterproofing Company
Royalty Sealants is a leading provider of caulking and sealant services in Arizona. Our team of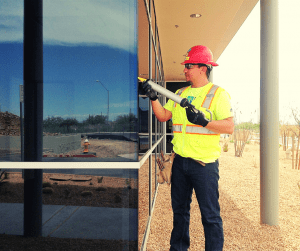 expertly trained and experienced professionals specializes in the installation of caulking and joint systems designed to prevent a myriad of water intrusion and deterioration problems.
At Royalty Sealants, we use the highest quality, reliable sealants to ensure the structural integrity of your building and protect your valuable assets. Our weatherproofing and waterproofing services are especially practical for preparing your property for Arizona's monsoon season.
As a sealant contractor, we use silicone and other types of caulking materials to seal joints, cracks, and openings in various architectural applications. Schedule an appointment with Royalty Sealants today at (623) 915-5624. At Royalty Sealants, you are assured of quality services that exceed industry standards.