Arizona's monsoon season occurs annually between June and September. While brief, the season is characterized by severe, unpredictable weather. Heavy rain and flash floods are often par for the course. These elements can penetrate residences and commercial buildings, causing untold amounts of damage, if not quickly mitigated.
The single most important method for preventing water damage is to contact a sealant contractor, such as Royalty Sealants, about their weatherproofing and waterproofing services. Royalty Sealants can identify problem areas, provide sealing recommendations, and work to make sure your home or building remains dry this monsoon season.
Monsoon Proof Services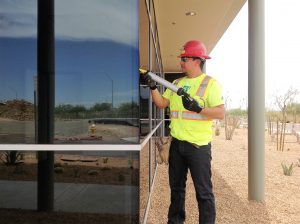 Weatherproofing: Two of the most significant entry points for water and moisture are your windows and doors. Your best defense here to hire Royalty Sealants to weatherproof your home or building. Our weatherproofing services protect structures from deterioration due to wind, water, and moisture. It can also help reduce heating and cooling costs, as well as create comfort year-round.
Waterproofing: Monsoon storms can cause substantial water damage in areas prone to flooding. An effective way to prevent water from entering your home or office is to have a protective coating applied to the exterior and other recommended areas. As a licensed sealant contractor, Royalty Sealants offers waterproofing services to help you monsoon proof your property, providing much-needed peace-of-mind during intense downpours. 
Arizona's Leading Sealant Contractor
Royalty Sealants is a leading provider of caulking and sealant services in Arizona. Our team of expertly trained and experienced professionals specializes in the installation of caulking and joint systems designed to prevent water intrusion for residences and businesses throughout the state.

At Royalty Sealants, we use the highest quality, reliable sealants to ensure the structural integrity of your building and protect your valuable assets. Our weatherproofing and waterproofing services are especially practical for preparing your property for Arizona's monsoon season.
As a sealant contractor, we use silicone and other types of caulking materials to seal joints, cracks, and openings in various architectural applications. Schedule an appointment with Royalty Sealants today at (623) 915-5624. At Royalty Sealants, you are assured of quality services that exceed industry standards.