About Royalty Sealants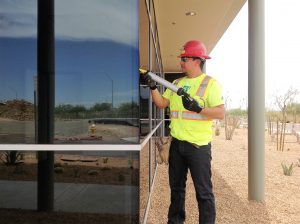 Royalty Sealants specializes in caulking to both new construction and maintenance to existing projects in need of repair.  This is to include caulking of tilt up and CMU buildings, concrete paving joints, window systems (assess window leaks), Non-rated concrete panel joints, Fire-rated concrete panel joints, Non-rated CMU joints, Fire-rated CMU joints, Sidewalk paving expansion joints, Decorative concrete paving expansion joints, EIFS joints, Pipe penetrations and scuppers, Stone veneer.
Our team of well trained and experienced professionals specialize in the installation of caulking and joint systems designed to prevent a myriad of water intrusion and deterioration problems.  Proper caulking, especially between dissimilar building elements, can protect your valuable assets and prevent costly liabilities.
Sealants are used to seal joints and openings in various architectural applications, which include:
High and low-rise buildings: commercial, residential, and industrial
Exterior and interior perimeter of windows
Building and material expansion joints
Interior perimeters of doors, baseboards, and moldings
Plazas and parking deck joints in traffic surfaces
Joints between tilt-up concrete exterior panels
Airport runway and apron pavement joints
Bridge and highway pavement joints
Sidewalks, parking lots and flat work joints
Water and wastewater treatment facility joints (including in submerged environments)
Part of a fire and smoke stop assembly for joints and penetrations
Structural sealant glazing
Waterproofing (below and above grade)
What may seem to be a simple and mundane re-caulking job on the exterior elevations of a high-rise structure is, in fact, a complex combination of different products and application methods designed to seal the building envelope.
Royalty Sealants will assess your building, analyzing existing leakage in window and door openings.  We will look for structural cracking, failure of joint materials, and porosity of the vertical walls.  This will allow us to determine the work necessary to properly seal the building.